Elevate Your Holiday Decor with Custom Stair Runners

With the holiday season drawing near, picture the joy of a Christmas tree trimmed with twinkling lights and ornaments, the children running up and down the stairs, laughing with joy, as they relish the feel of plush carpeting beneath their feet. All because of your custom stair runner from The Rug Gallery.
It's the gift that keeps on giving! These runners not only enhance the style of your space, but also offer floor protection and add a unique touch that resonates with your loved ones.
Here at The Rug Gallery, we specialize in custom stair runners that add warmth and character to your home, regardless of the size or style of your staircase. Whats more, our master installers, certified by The International Certified Flooring Installers (CFI), a non-profit organization dedicated to improving flooring installation in the residential and commercial fields through training and certification, will be there to help you every step of the way. Celebrating 25 years of experience, their mastery, skilled craftsmanship, and flair for working with different textures and staircase styles add a new level of holiday cheer, guaranteeing that your carpet installation will bring joy throughout its entire lifetime.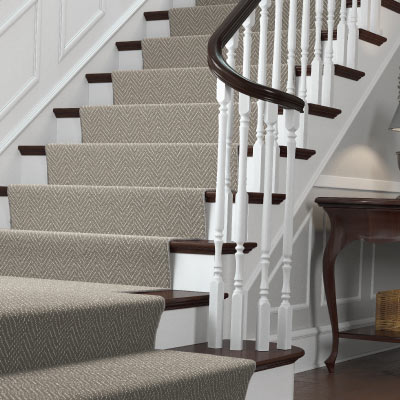 Why Stair Runners?
Just as snow transforms the city into a winter wonderland, stair runners can magically transform a blank staircase into a focal point and create an inviting first impression when your guests arrive.
Incredibly versatile, stair runners are a canvas for personal expression, allowing homeowners to incorporate their unique style. Whether it's a burst of color or a subtle geometric pattern, stair runners add that extra layer of personality to a transitional space often overlooked in the grand scheme of home decor.
So, the next time you ascend or descend your staircase, consider the potential it holds.
What are stair runners?
The stair runner is like a ribbon of color, tying the rooms together and adding a touch of  festive flair. These long, narrow carpets or rugs specifically designed for staircases serve both aesthetic and practical purposes in home decor. Beyond adding a decorative element to often overlooked transitional spaces, stair runners provide a layer of protection to the stairs, reducing wear and tear on the treads.
Homeowners love these as they come in various materials, colors, and patterns  allowing you to personalize the staircase and enhance the overall design of the home .
The Resurgence of Stair Runners in Modern Home Design
Are Stair Runners Outdated?
Far from being outdated, stair runners redefine overlooked spaces, injecting bursts of color and patterns that elevate the entire home aesthetic while adding a touch of sophistication.
But it's not just about style—stair runners are practical additions too. In bustling households with energetic children and playful pets, the constant clanking of footsteps can be a source of disturbance. Enter stair runners, the carpeting helps muffle the sounds, creating a more serene living environment.
So, as you prepare to welcome the festivities of the approaching holidays, envision not just a beautiful space but a home transformed by the warmth and charm of a custom stair runner.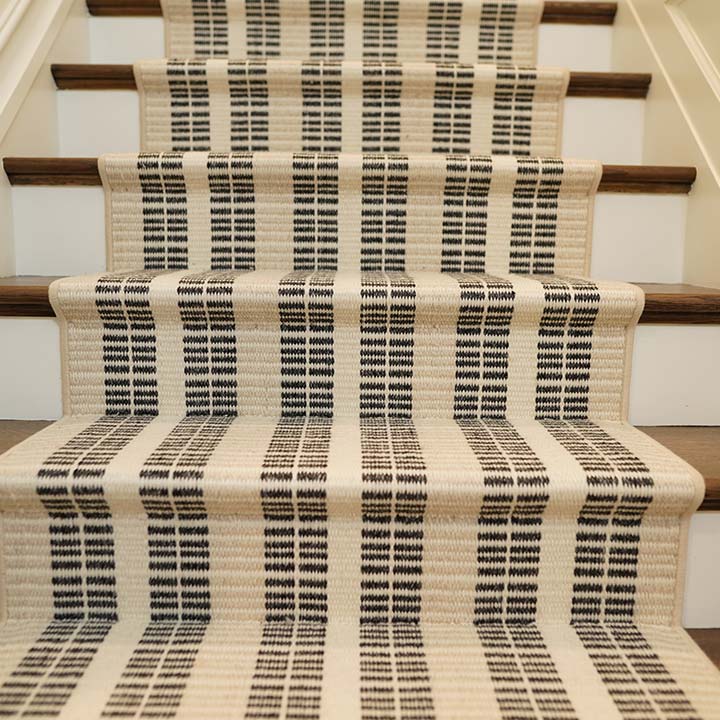 Ready for a Holiday Upgrade?
At The Rug Gallery, we specialize in curating stair runners that go beyond the ordinary, serving as both a protective layer for your floors and a distinctive expression of your personal style. Whether you have a grand staircase or just a few steps, our dedicated team is here to guide you in discovering the perfect stair runner that adds character to your home.
Contact us today and elevate your home with the inviting touch of a well-crafted and personalized stair runner from The Rug Gallery.