Ikat Rugs: What You Need to Know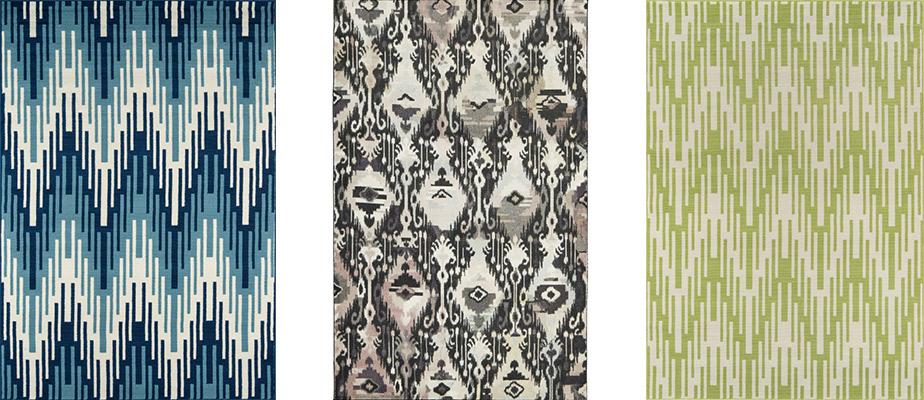 Ikat, sometimes referred to as ikkat, is not as much a rug as it is a specific dying technique used for rugs. While this dyeing technique can be used for a variety of textiles, rugs are one of the most common pieces to feature this type of unique dyeing.
In this video, Sam Presnell explains what Ikat rugs are and where the patterns originated from, and shows off some examples of these fine rugs.
Video Transcript
Ikat rugs are very interesting and they have a bit of a jagged line to all the edges that you see in the designs. A lot of people wonder why they did that but, actually, an Ikat is actually a fabric, basically, that we call resist dyeing.
It would be like you would see in a batik, or you would see in a tie-dye situation, where it's not exactly clear and crisp and you see a lot of distortions on those patterns where they join together. We take those original cloths and we weave them in the Persian fashion.
You can also see them done machine-made today, tufted. They're made in about every category. It has really taken off. It's funny how people think it's a new modern design but, actually, these designs are hundreds of years old and were originally used as tunics or cloths and have a very unique history to them.
As you see, these rugs are really great textiles and really come off nice for anybody's home and can mix really well with traditional rugs as well.
What is Ikat Dying?
Ikat uses the technique of resist dyeing, almost like a sophisticated type of tie dye. Ikat, which is pronounced "ee-KAHT," is born from the Malaysian term "mengikat," or "to tie." In order to achieve the Ikat look, the materials used to weave the rug are tied together in small bundles with grass or waxed cotton threads. The individual weaving the rug then has to determine where on the bundles to place the dye, keeping in mind how the materials will be used in the final rug. This can be quite a task when you consider many of the complex designs seen in Ikat rugs.  
Uses for Ikat Rugs
Ikat rugs were traditionally used as prayer rugs and textiles using the same dyeing technique were used as burial shrouds. Today, Ikat rugs can be displayed in the home as any traditional Oriental rug would – either as a statement piece on the floor or even on the wall as a unique tapestry. Because the resist dyeing technique used to create complex patterns in these rugs is so involved, the cost of a genuine, high-quality Ikat rug can be on the higher end. However, genuine Ikat rugs are highly prized and are often handed down from generation to generation.  
Where to Find Ikat Rugs
At the Rug Gallery, we have a wide variety of Oriental rugs to choose from and can help you find the perfect Ikat rug you're looking for. Contact us today.